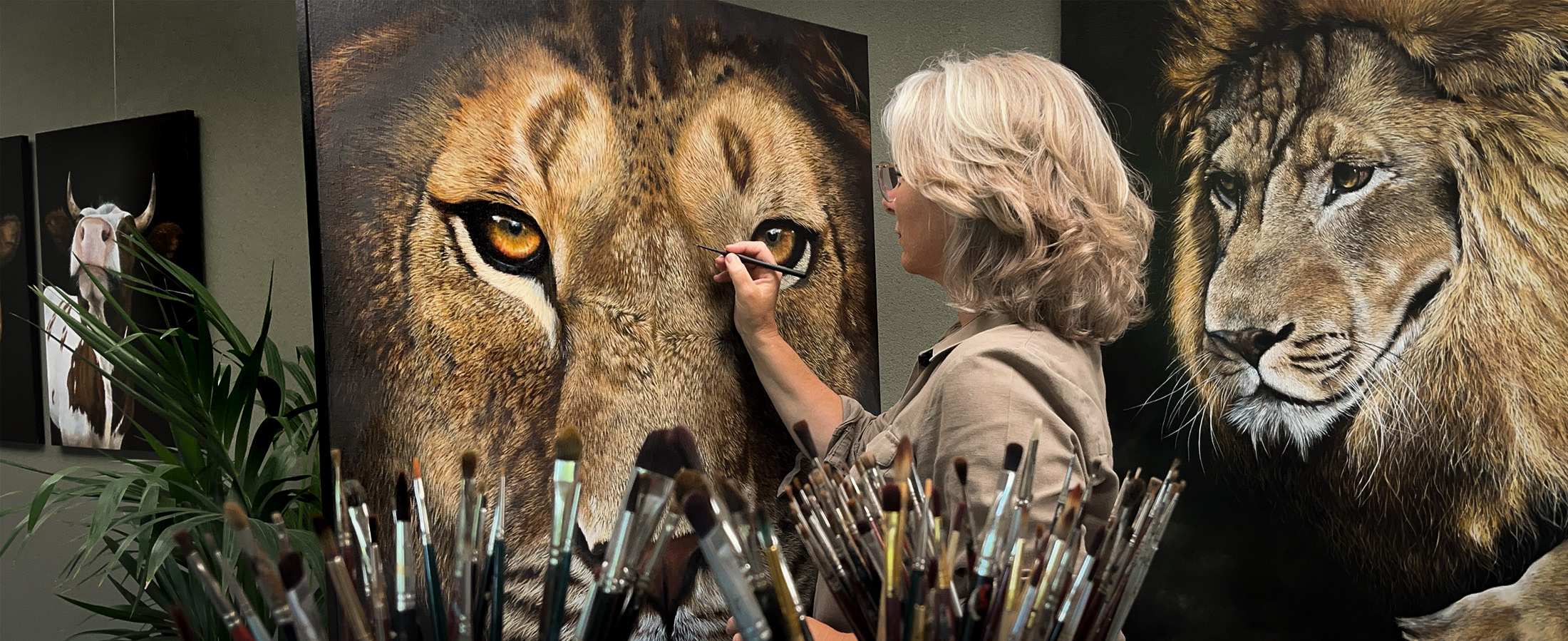 "Oil Paintings"
Original, hand-crafted artworks
**
"The process"
The creation of an artwork is a process. A long preparation precedes the first brush stroke on the canvas. It starts with observing and studying the animals. This often leads to the inspiration and idea for a new canvas. I take dozens of pictures of the animals. By playing with these photos and making sketches, I come to a composition.
 Only when I am satisfied with the composition I start painting, using the photo's and sketches as a reference. Layer by layer.... Until the animal comes to life and until the painting has become exactly what I had in mind.
"Queeny"

An Original oil painting of a Lion | 80x100cm

€ 4.000,00

"Lilly"

Cow | original oilpainting | 80x100cm

€ 3.000,00

"Max"

∙ 150x120 cm (59x 47,2 inches)
∙ Original, hand-crafted artwork
∙ Oil paint on linen

----------
The largest work I've painted so far. But the size fits exactly with the lion I had in mind. Walking from the dark... straight…

€ 6.000,00

"Billy"

Hornbill | 160x90 | oilpainting

€ 4.000,00

"Charlie"

"Charlie"
Leopard
90x90cm
Oil on linen

€ 4.000,00

"Grumpy"

∙ 90x90 cm (35,4x35,4 inches)
∙ Original, hand-crafted artwork
∙ Oil paint on linen
∙ Silvery cheeked Hornbill

----------
To get inspiration I observe the animals I want to capture on the canvas. This is also the case…

€ 2.000,00

SOLD

"Monk"

∙ 90x90 cm (35,4x35,4 inches)
∙ Original hand-crafted artwork
∙ Oil on linen

----------
This original painting already found a home.

----------
Would you like information about original artworks that are available at the…

"Beloved"

∙ 90x90 cm (35,4x35,4 inches)
∙ Original, hand-crafted artwork
∙ Oil paint on linen

----------
There is nothing more beautiful than love.....

----------
∙ The linen is mounted on aluminium stretcher bars
∙ The sides of…

€ 3.000,00

"Whoopi"

∙ 80x100 cm (31,5x39,4 inches)
∙ Original, hand-crafted artwork
∙ Oil paint on linen

----------
"Whoopi"

I got the inspiration for this painting from very close by. Down the road from me is a small meadow, where a couple…

€ 3.000,00

SOLD

"Protect them"

∙ 150x100 cm (59x39,4 inches)
∙ Original hand-crafted artwork
∙ Oil on linen

----------
When I start working on a new painting I always do some research about the animal I am going to paint. In this case it was not a…

SOLD

"Kyloe"

∙ 150x100 cm (59x39,4 inches)
∙ Original hand-crafted artwork
∙ Oil on linen

----------
This original painting already found a home.

----------
Would you like information about original artworks that are available at the…

"Boris"

∙ 150x100 cm (59x39,4 inches)
∙ Original, hand-crafted artwork
∙ Oil paint on linen

----------
Boris...The African buffalo.... 1 of the beautiful animals belonging to the famous Big Five. The horns are huge and a joy to…

€ 4.000,00

"Nobby"

50x50cm | Nobby | Rhino | original art

€ 1.000,00

"Tommy"

∙ 50x50 cm (19,7x19,7 inches)
∙ Original, hand-crafted artwork
∙ Oil paint on linen

----------
Nobby the White Rhino.....

----------
∙ The linen is mounted on aluminium stretcher bars
∙ The sides of the painting are in…

€ 1.000,00

SOLD

"TinTin"

∙ 60x60 cm (23,6x23,6 inches)
∙ Original hand-crafted artwork
∙ Oil on linen

----------
This original painting already found a home.

----------
Would you like information about original artworks that are available at the…

SOLD

"Xanthe"

∙ 50x50 cm (19,7x19,7 inches)
∙ Original hand-crafted artwork
∙ Oil on linen

----------
This original painting already found a home.

----------
Would you like information about original artworks that are available at the…

"Silver"

∙ 80x60 cm (31,5x23,6 inches)
∙ Original, hand-crafted artwork
∙ Oil paint on linen

----------
Silver, the Arabian horse...

----------
∙ The linen is mounted on aluminium stretcher bars.
∙ The sides of the painting are…

€ 1.000,00

SOLD

"Gemzie"

∙ 50x60 cm (19,7x23,6 inches)
∙ Original hand-crafted artwork
∙ Oil on linen

----------
This original painting already found a home.

----------
Would you like information about original artworks that are available at the…

SOLD

"Wilfred"

∙ 90x90 cm (35,4x35,4 inches)
∙ Original, hand-crafted artwork
∙ Oil paint on linen
∙ Drenthe heath sheep

----------
I really loved painting these massive horns. They are prehisttoric and elegant at the same time.

This…

SOLD

"Tjanouk"

∙ 50x40 cm (19,7x15,7 inches)
∙ Original hand-crafted artwork
∙ Oil on linen

----------
This original painting already found a home.

----------
Would you like information about original artworks that are available at the…

SOLD

"Bumpie"

∙ 120x80 cm (47,3x31,5 inches)
∙ Original hand-crafted artwork
∙ Oil on linen

----------
This original painting already found a home.

----------
Would you like information about original artworks that are available at the…

SOLD

"Dexter"

∙ 90x90 cm (35,4x35,4 inches)
∙ Original hand-crafted artwork
∙ Oil on linen

----------
This original painting already found a home.

----------
Would you like information about original artworks that are available at the…

SOLD

"Jeffrey"

∙ 30x30 cm (11,8x11,8inches)
∙ Original hand-crafted artwork
∙ Oil on linen

----------
This original painting already found a home.

----------
Would you like information about original artworks that are available at the…

SOLD

"Furry five"

∙ 70x100 cm (27,5x39,4 inches)
∙ Original hand-crafted artwork
∙ Oil on linen

----------
This original painting already found a home.

----------
Would you like information about original artworks that are available at the…

SOLD

"Shadow"

∙ 50x60 cm (19,7x23,6 inches)
∙ Original hand-crafted artwork
∙ Oil on linen

----------
This original painting already found a home.

----------
Would you like information about original artworks that are available at the…

SOLD

"Aagje"

∙ 70x100 cm (27,5x39,4 inches)
∙ Original hand-crafted artwork
∙ Oil on linen

----------
This original painting already found a home.

----------
Would you like information about original artworks that are available at the…

SOLD

"Booster"

∙ 40x50 cm (15,7x19,7inches)
∙ Original hand-crafted artwork
∙ Oil on linen

----------
This original painting already found a home.

----------
Would you like information about original artworks that are available at the…

SOLD

"Explore the world"

∙ 60x80 cm (23,6x31,4 inches)
∙ Original hand-crafted artwork
∙ Oil on linen

----------
Exploring the world with those curious eyes...

This original painting already found a home.

----------
Would you like information…

SOLD

"Sleeping beauty"

∙ 140x80 cm (55,1x31,4 inches)
∙ Original hand-crafted artwork
∙ Oil on linen

----------
This original painting already found a home.

----------
Would you like information about original artworks that are available at the…

SOLD

"Elexiertje"

∙ 60x80 cm (23,6x31,4 inches)
∙ Original hand-crafted artwork
∙ Oil on linen

----------
Those beautiful blonde locks! To be jealous of...

This original painting already found a home.

----------
Would you like information…

SOLD

"Friesian horse"

∙ 120x100 cm (47,2x39,4 inches)
∙ Original hand-crafted artwork
∙ Oil on linen

----------
This original painting already found a home.

----------
Would you like information about original artworks that are available at the…

SOLD

"Marco"

∙ 30x30 cm (11,8x11,8inches)
∙ Original hand-crafted artwork
∙ Oil on linen

----------
This original painting already found a home.

----------
Would you like information about original artworks that are available at the…

SOLD

"Snoop"

∙ 90x90 cm (35,4x35,4 inches)
∙ Original hand-crafted artwork
∙ Oil on linen

----------
This original painting already found a home.

----------
Would you like information about original artworks that are available at the…

SOLD

"Bella"

∙ 40x30 cm (15,7x11,8inches)
∙ Original hand-crafted artwork
∙ Oil on linen

----------
This original painting already found a home.

----------
Would you like information about original artworks that are available at the…